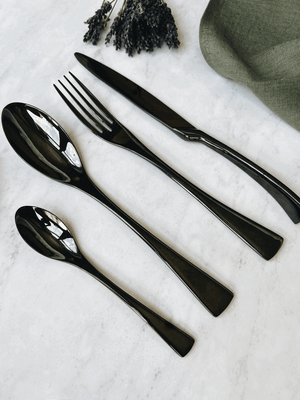 what sets us apart
When you choose to shop with The Cutlery Collection, you're using your purchasing power to support a small Canadian business that cares about making best-in-class cutlery that looks different from everyone else's. Here's what makes us different.
WE ACTUALLY WANT YOUR CUTLERY TO LAST
Quality matters. That's why all of our cutlery sets are crafted from high grade materials with uncompromising workmanship. Each piece of flatware is made from 18/10 stainless steel. This means our cutlery is built for everyday use. It's durable, rust-resistant and designed to last.
WE GIVE BACK TO THE COMMUNITIES WE WORK IN
At Cutlery Collection, we're building a better future by using our supply chain to work with responsible manufacturers and by giving back 1% of our profits to drive positive change for our planet and future generations. Our social purpose is at the heart of everything we do as a community-focused company. Let's make the world better, together. 
WE'RE NOT INTERESETED IN SELLING BORING CUTLERY
Have you ever noticed that most cutlery looks exactly the same? Us too. That's why we sell unique designs that can't be found in stores. Our flatware is designed in Canada and we partner with responsible creators across the globe to bring our beautiful ideas to life.
The Cutlery Collection Difference
We believe that your home should tell the story of who you are and be a collection of what you love. That's why our small Vancouver-based team creates innovative flatware designs in Canada and partners with responsible global creators to bring these designs to your dining room table. We truly want you to love where you live. To us, that starts with having unique cutlery options you can't find in store.
ELEVATED 5,000+ DINING ROOM TABLES
The Cutlery Collection is a leading flatware company with over 12,000+ happy customers. Check out how our cutlery community have elevated their homes with our utensils.
Get in touch
Want to know more? Reach out and we'd be happy to chat.